New Industry High-Water Mark Established for Plug-In Hybrids
Mississauga, ON – December 3, 2018 – For the first time ever in Canada, a plug-in hybrid has reached 5,000 sales in the calendar year. Mitsubishi Motor Sales of Canada Ltd. (MMSCAN) announced today, 5,052 Mitsubishi Outlander PHEV have been delivered year-to-date firmly establishing it as Canada's best-selling plug-in hybrid and Canada's best-selling plug-in hybrid SUV.

Recently, Outlander PHEV was awarded Green Car Journal's 2019 Green SUV of the Year™ at the Los Angeles Auto Show's AutoMobility LA. The Outlander PHEV received top honors among a list of some of the largest OEMs in the world, and was recognized for raising the bar in environmental performance at an affordable cost for consumers. 

"Canadians are recognizing that the Mitsubishi Outlander PHEV is electric and much more helping to establish a new industry high water mark. We see our strongest results in Québec month-after-month. Most Outlander PHEV customers were in gas-only SUVs and cars previously. As the first affordable plug-in hybrid SUV in the market, we're helping to significantly grow adoption to EV. We are very proud of that," said Tony Laframboise, president and CEO, Mitsubishi Motor Sales of Canada, Inc.

Dealer support has been critical to Outlander PHEV success with wide availability of the vehicle from coast-to-coast. An outstanding 47 per cent of Outlander PHEV sales come from Québec. Top five Outlander PHEV dealers year-to-date in order are Québec Mitsubishi (Québec), Metrotown Mitsubishi (B.C.), St. Hyacinthe Mitsubishi (Québec), Wolfe Mitsubishi (B.C.) and Boisvert Mitsubishi (Québec).

For the month of November, MMSCAN reported 1,706 sales for the month. Mitsubishi Motor's top-selling nameplate, the subcompact SUV, RVR reached 478 sales, Outlander notched 403 sales and 299 Outlander PHEVs were delivered. Eclipse Cross rounds out Mitsubishi Motors SUV lineup with 357 deliveries. The subcompact Mirage hatchback and G4 sedan combined for 169 sales in November. Overall monthly November sales are down 12 per cent over last year's record month. MMSCAN reports 23,594 vehicles sold year to date which is up 10 per cent year-over-year.

Mitsubishi Motor Sales of Canada is the sales, service, parts and marketing arm for Japan's Mitsubishi Motors. With a product range consisting of Mirage and Mirage G4, RVR compact crossover, Outlander compact sport utility and Outlander PHEV, and Eclipse Cross, MMSCAN supports its dealerships with a head office team and parts distribution centre — both located in Mississauga, Ontario. Established in 2002, MMSCAN and its dealerships employ over 1,200 people in communities large and small. In 2016, MMSCAN became the only automaker to partner with Breakfast Club of Canada with a goal of stimulating young minds and a brighter future in communities across the land.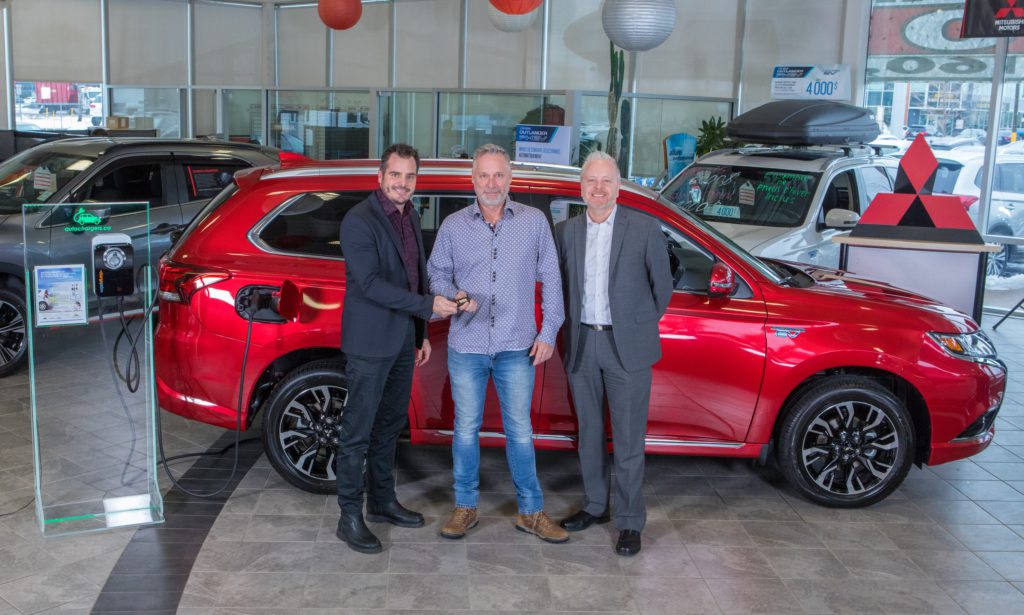 Photo Caption:
Mr. Serge McGraw from Québec helped Mitsubishi Outlander PHEV set a 5,000+ record as one of November's Outlander customers purchased from top Outlander PHEV dealer Québec Mitsubishi. Mr. McGraw is moving out of a 2010 gas-only SUV and he chose Outlander PHEV for its load capacity and its ability to run on 100 per cent electric. He has driven his vehicle for three weeks already without filling the gas tank.

(L-R) François Roy, General manager, Québec Mitsubishi, Serge McGraw, new owner of an Outlander PHEV, Marco Sauvageau, Sales Director, Québec Mitsubishi.

Visit Mitsubishi-motors-pr.ca to stay current on Mitsubishi Motors news.